DIETARY FRIENDLY CAKES

DIETARY FRIENDLY CAKES
At JOY, we pride ourselves in making sure our menu includes plenty of dietary friendly cakes and options. Whether you have a dietary requirement or are catering for someone who does, we are sure to have something for you.
Since the beginning of JOY, we wanted everyone to be able to feel included and en-JOY! So we worked hard to ensure our range had nut free, gluten free, dairy free and vegan options.
GLUTEN FREE
Even if you aren't a coeliac or don't prescribe to a gluten free diet, flourless cakes are delicious! Our most popular gluten free cupcake is the Black & White. It is made with a gluten free Belgian chocolate cake topped with vanilla bean French buttercream. We also have our signature all-natural Red Velvet cake in a gluten free version with cream cheese frosting. For those that can't have gluten, dairy or eggs, we have our Orange, Polenta & Popcorn cupcake that is gluten free, vegan, nut free and delicious.
VEGAN
If you are avoiding eggs, dairy or are vegan, we have our aforementioned Orange, Polenta & Popcorn that is also gluten free. Another of our vegan cakes is the Chocolate on Chocolate, a decadent chocolate cupcake topped with chocolate buttercream. And of course we make our signature all-natural Red Velvet in a vegan version, too.
NUT FREE
The large majority of our cupcake menu is also nut free, which is great for those with allergies. As our cupcake menu rotates daily, our Baking Now page is a great resource. You can check what days of the week your desired dietary friendly cake is available!
WHOLE CAKES
Are you after a dietary friendly whole cake? We may have you covered there, too. Our Black Forest Cake is a decadent, flourless Belgian chocolate sponge filled with vanilla bean buttercream and boozy cherry compote. Most of the whole cake range is also nut free! When shopping online or in store, our little "NF", "GF", or "V" tags will help you choose the right cake for your dietaries.
Have you tried one of our dietary friendly cakes before? You can order your selection in full-size or giggle versions and have them delivered to your door – or to a friend!
We hope you en-JOY.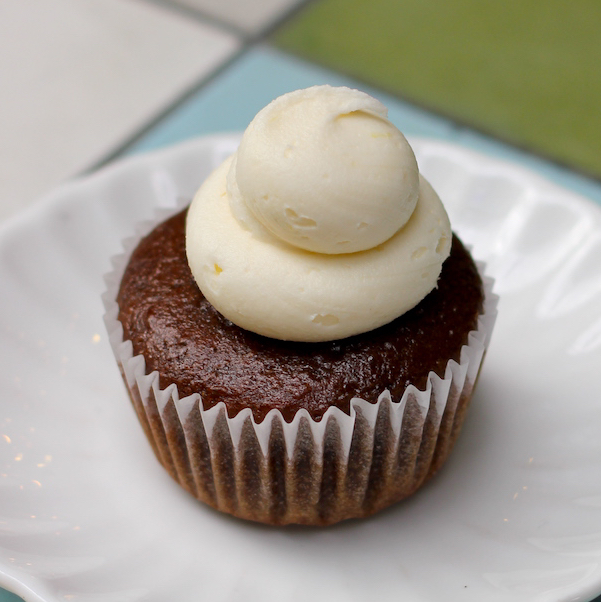 Test