BESTSELLING CUPCAKE FLAVOURS

BESTSELLING CUPCAKE FLAVOURS
Strawberry Shortcake, Dark Chocolate, Lemon Meringue and Chocolate Marshmallow. These are our bestselling cupcake flavours since we opened JOY 12 years ago. Available everyday both in store and online, we can't imagine ever taking these off the menu. 
You are also almost guaranteed to find these flavours in giggle version if you visit us in store!

Strawberry Shortcake 
We make our delicious, muted pink strawberries and cream frosting by finely dicing fresh strawberries by hand and macerating them. They get folded through our signature French buttercream and piped on our vanilla bean cake for a true strawberry shortcake experience.

Dark Chocolate 
One for true chocolate lovers, with a deep chocolate cake and a rich, pure, chocolate ganache. Both the cake and frosting are made with quality Callebaut couverture chocolate for an intense chocolate flavour. Our ganache is made with a signature blend of milk and dark chocolate, cream and butter for the ultimate chocolate experience.

Lemon Meringue 
The only filled cupcake on our permanent menu, it's one of our favourites. We make our own lemon curd with lemons from our family tree; hand zesting and squeezing all the lemons for a deeply yellow, zingy curd. Piped into our vanilla bean butter cake, it's then topped with soft meringue for a beautiful balance of tart filling and sweet, sticky frosting. 

Chocolate Marshmallow
This flavour was created with children in mind but has become popular with adults alike! Our Callebaut Belgian chocolate cake is piped with swirls of sticky marshmallow meringue frosting, for a bitter/sweet chocolate experience. 

Have you tried all our bestselling cupcakes yet? Don't forget you can order them online for home delivery Monday – Saturday!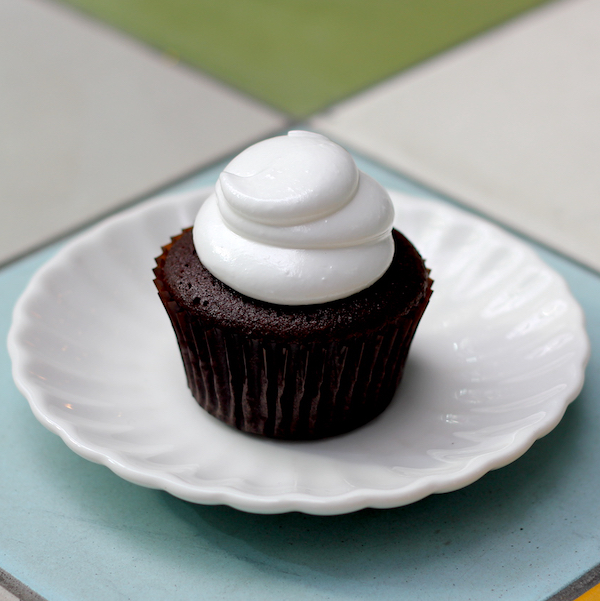 Test