BAKING CUPCAKES: TOOLS & EQUIPMENT

BAKING CUPCAKES: TOOLS & EQUIPMENT
What essential tools and equipment do you need for baking cupcakes? We're here to help with our list of must-haves. These are the essentials we need to bake our JOY cupcakes!
STAND MIXER
We think this one is a definite must-have to bake cupcakes! We can't imagine making our cupcake batters or whipping up buttercream without our trusty mixers (yes, we have many!). Perfect for beating butter and sugar, aerating eggs and being an all-around kitchen whiz.
MUFFIN PAN & CUPCAKE LINERS
Muffin pans (mini or regular) and the right size cupcake liners are both essentials for cupcake making! Unlike muffins, cupcakes are always baked in a liner (or patty pan), and the muffin tin holds this up perfectly to help your cupcakes keep their shape! We recommend paper liners for the best non-stick cupcake experience. They also work best when they are the right size for your muffin pan.
COOKIE SCOOP
We also love using a cookie scoop to scoop perfect half-rounds of cupcake batter into the patty pans. This ensures mess-free scooping and makes sure each cupcake liner holds the same amount of batter for even baking. But if you don't have one of these, tablespoons work well too!
PIPING BAGS & NOZZLES
What makes a cupcake a cupcake, and not a muffin? The frosting. Frosting can be applied in so many ways at home (like swirled on with a spoon), but at JOY, we always pipe it on! We have our signature swirl cupcakes that we use a round nozzle for in a biodegradable piping bag. It's always fun using different shaped nozzles for our cupcake specials too, like the Saint Honoré nozzle used on our Sticky Date cupcake!
RUBBER SPATULA
Another optional piece of equipment; but one that will make baking cupcakes so much easier! The perfect tool for folding through flour into cupcake batter; scraping the last lick of batter out of the bowl; and scooping frosting into a piping bag. This is one we can't live without, and recommend having on hand for any baking project.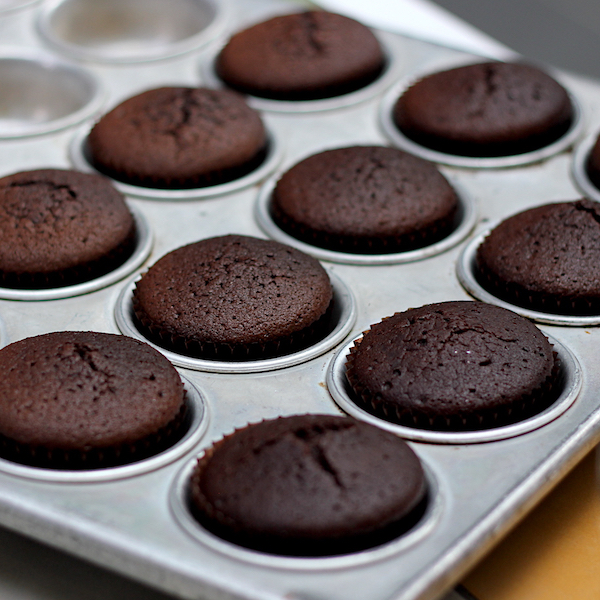 Test